2016 President's Program Award Winners
March 26 2019, Western Toyota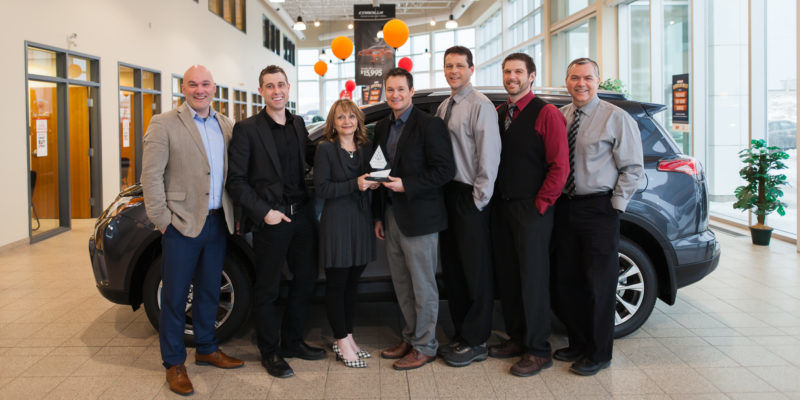 Please join us in congratulating our President`s Program Award Winners. These are team members who were recognized by Toyota Canada as the best of the best! They have all shown amazing skill and dedication in their roles this past year.
Designed to recognize team members who excel in all facets of their role, the President`s Program is an acknowledgment of a top-tier team-member. Most noteworthy, this means going above and beyond. Ensuring a top-notch customer experience at our dealership is a priority. Therefore, we'd like to offer both our gratitude and congratulations to this year's award winners. We truly have the best team in the business.
Thank you for all of your hard work!
From above, from left to right:
Matt Rogers, Product Advisor – Retail Excellence
Matthew Sheppard, Product Advisor – Retail Prestige
Julie Gould, Accountant – Accounting Distinction
Steve Cave, Sales Manager – Management Excellence
Chris Bellows, Product Advisor – Retail Excellence
Mark Pennell, Product Advisor – Retail Excellence
Gord Davis, Business Manager – Business Manager Distinction
The President`s Program is an exciting! It`s a way for our most outstanding team members to be recognized. Right across our country, as they deserve! Feedback for these special recognitions comes from a variety of different channels, including several measurable performance metrics, but most of all, it`s about direct customer input. Consequently, that means we truly can`t do it without you. Our staff is proud to serve you and your Toyota every day, and we are always committed to making things better.
Maybe you`re in the market for a new vehicle. Choose us. Our customers can count on the team at Western Toyota. We deliver an outstanding purchase and ownership experience and we've been doing it since 1980. We keep getting better every day.
Finally, if you've had an excellent experience at Western Toyota, we'd love to hear from you. Your specific feedback on a particular team member is emphatically encouraged. We love to hear and share the stories of our family hard at work. Consider leaving us a review on Facebook or Google. These reviews help us a lot! If you'd like to reach us privately, we'd love to hear from you. Share your feedback with us through the contact us page.